The European Union (EU) has stood by Montenegro to help the country to address both the COVID-19 outbreak and its aftermath. Since the beginning of the pandemic, the EU has granted €116 million to Montenegro, providing vaccines, medical equipment and supplies, financial support for economic recovery and more.
The support started in 2020 with an emergency aid package worth €3 million, which included 100 hospital medical ventilators, ten modern digital x-ray devices and over two million pieces of personal protective equipment. The EU directly supported the Montenegrin budget with €40.5 million to reduce the negative effects of the pandemic on the economy and help vulnerable groups. Some 150,000 salaries have been subsidised, while close to 300 micro and small companies (108 of which are owned by women) have received financial support to improve their competitiveness. An additional €9.5 million were quickly channeled to strengthen Montenegro's health system to deal with the ongoing crisis (including a mass PCR testing machine, a building for two new clinics planned in Podgorica and the Centre for the Control and Prevention of Infectious Diseases with Emergency Operating Centre).
The EU and its Member States have donated a total of 321,000 vaccines. The EU funded the purchase of vaccines through a grant worth over €2.4 million, which were provided to the Ministry of Health. The assistance also includes equipment and materials necessary for the implementation of the vaccination campaign. Over 42,000 doses of the Pfizer/BioNTech vaccine have been delivered between May and August 2021 as part of this grant. France provided an additional 117,000 doses of the Pfizer/BioNTech vaccine, while Poland also contributed with 100,000 doses of the Pfizer/BioNTech vaccine. Moreover, Slovenia donated 42,000 doses of the Moderna vaccine, whereas Slovakia and Croatia donated 10,000 doses each of the AstraZeneca vaccine.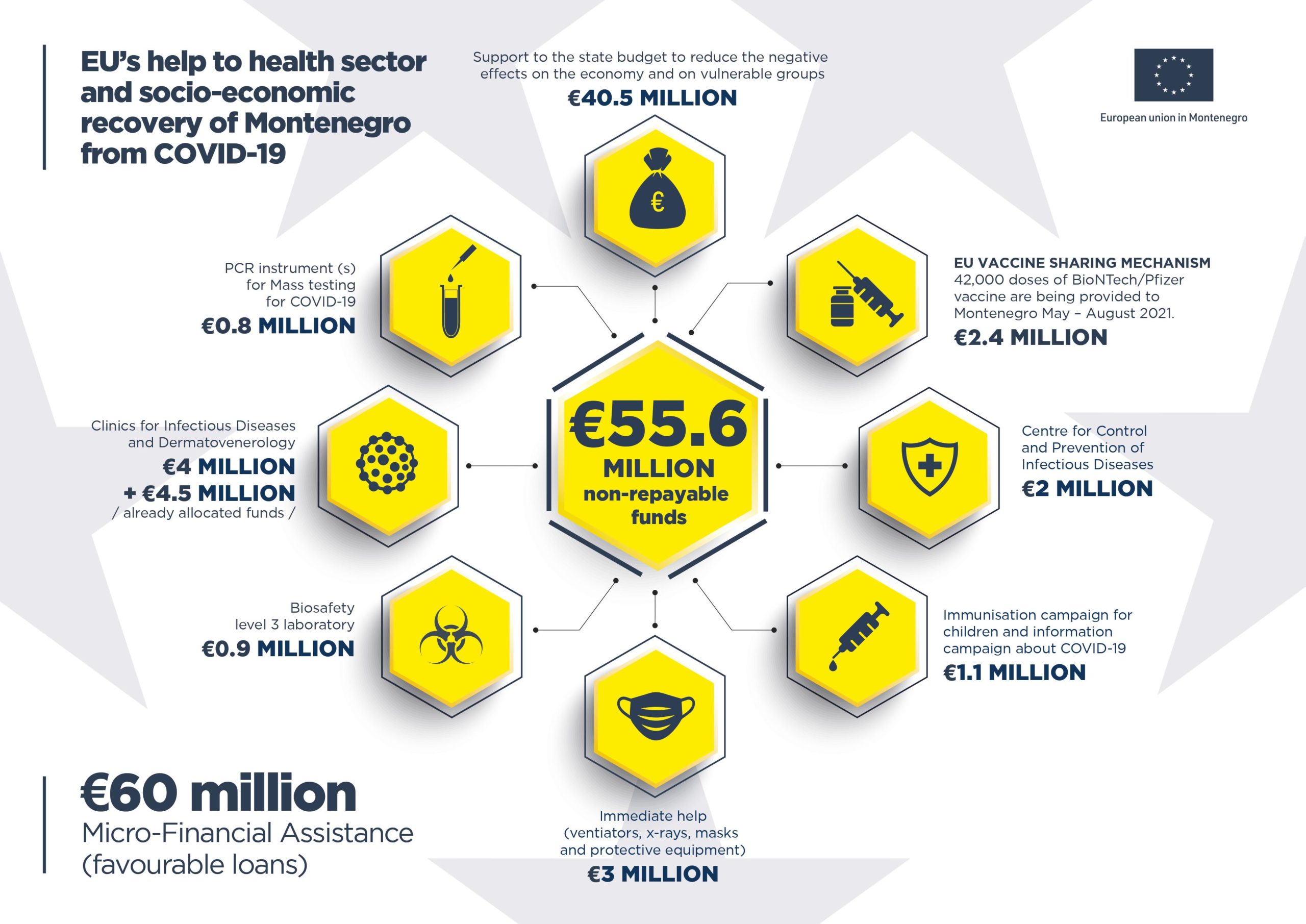 Montenegro has purchased and received 48,000 doses of the AstraZeneca vaccine through the global COVAX facility.
The EU has allocated an additional €300,000 to step up Montenegro's efforts to tackle the pandemic through an agreement signed with World Health Organisation. Additionally, more than one million pieces of personal protective equipment have been donated by the EU Member States and the EU through the Civil Protection Mechanism.
Furthermore, the European Commission has allocated around €200,000 in additional support to Montenegro as part of the EU Solidarity Fund. In collaboration with the Montenegrin Investment Development Fund and commercial banks, the European Investment Bank has provided €100 million in favourable loans to support tourism and other sectors severely affected by COVID-19 and help companies to sustain liquidity and jobs. The EU has also provided €60 million in favourable loans as part of the macro-financial assistance (MFA).