May ushers music, flowers, virtual reality and tangible rewards
The EU in Montenegro celebrates Europe Day throughout the month of May this year as well. And unlike last two years, this time we'll be hanging out in person! We start in Cetinje, where a large flower carpet await. Then we move to Podgorica, to a big concert event by the Who See, Buč Kasidi and Vojko V. In keeping with tradition, May ushers rewards through our popular online game "EU in the palm of your hand". We are also pleased that you will soon be able to see our fresh new face – this May, the EU Info Centre becomes Europe House, a place of dialogue, creativity, socializing and new ideas.
Flower carpet in Cetinje from 7 to 10 May
We dreamed of spring all through the winter that is now behind us. And we worked hard. Together with our partners, we planted over 33,500 flower seedlings that are now ready to "be woven" into a one-of-a-kind flower carpet, ​​230 m2 large. The flower carpet in front of King Nikola's Palace in Cetinje will be officially opened on Saturday, 7 May, by the Ambassador of the EU to Montenegro, Oana Cristina Popa, and the Mayor of Cetinje, Nikola Đurašković.
The carpet's design is inspired by flower motifs on the parquet in the palace itself, symbolically connecting the Montenegrin and European traditions. Namely, every other year, a similar, but much larger flower carpet adorns the main city square in Brussels.
This locally-grown flower carpet will adorn the Palace Square until 10 May. After that, all seedlings will be donated to the Old Royal Capital Cetinje, which will then have them planted in the parks and courtyards of national and local institutions, schools and kindergartens. The "weaving" of the flower carpet has been supported by partners, including banks such as the Erste Bank, Crnogorska komercijalna banka, Addiko and NLB, the IDEA market chain, the Air Montenegro and Ina companies, the National Tourist Organization, and the Regent and the Hilton hotels.
Blue wave
Once again, the blue wave spread throughout Montenegro. As part of Europe Day, many important state and local institutions were illuminated in blue. In addition to the building of the EU Delegation in Montenegro, the buildings of the parliament, the President's building, the Ministry of Foreign Affairs, the Ministry of Defense, and the Millennium Bridge were illuminated in Podgorica. Most municipalities responded to the blue wave as well, so the buildings of local governments or recognisable buildings in Kotor, Tivat, Herceg Novi, Bar, Bijelo Polje, Tuzi were also illuminated.. .
A big concert event: performances by the Who See, Buč Kesidi and Vojko V
After two years of broadcasted concerts, which we organized without an audience present, this May we can finally enjoy live music. We have invited some of the most popular Montenegrin and regional musicians, also eager for quality live music, which is why we are sure that we have a great evening ahead. On Friday, 13 May, at 20:30h, we are hosting a big concert event on the Argentina Square in Podgorica; admission is, of course, free. The performers are the Who See Klapa, the Buč Kesidi band and the rapper Vojko V. The concert is organized in promotion of the opening of Europe House, which is what our newly refurbished EU Info Centre, located on the Argentina Square, will be called in the future.
The Who See hip-hop duo from Kotor, formed by Noyz and Dedduh, has been in the music game since 2000. They made four albums, with the fifth one coming out this summer. On the Argentina Square, you will have the opportunity to hear some of your favourite hits again, such as Đe se kupaš, Reggaeton Montenegro, Bar-Bari, Nemam ti kad, Nije preša, Naselje, Daj ga na gas, Pucačina po Budvi, Amo popit po pivo, Igranka…
Buč Kesidi describe themselves as a left-handed, disco, rock'n'roll, electro boy band duo from Pančevo, formed by Zoran Zarubica (drums, vocals) and Luka Racić (guitar, vocals). They have two albums behind them, Posesivno-ospulsivni hospul (2016) and Euforija (2019). The Podgorica audiences will have the chance to hear their new songs for the first time, as the Pančevo duo is currently working on a new studio album.
Croatian rapper, lyricist, composer and music producer Vojko V, known for his hits Kako to, Ne može, Umoran, is coming back to Podgorica after a long time, having just released a new song and video "TT-33" .
See you there. And it's free entry!
Our traditional online game "EU in the palm of your hand", and gifts from the EU member states' embassies
Last year, more than 18,000 players tried their hand at our online prize game "EU in the palm of your hand". That is 18 thousand reasons for us to reprise the game this year as well. At www.eunadlanu.me, starting from 10 May, you will have the opportunity to have fun answering questions about the European Union, its member states, and the process of Montenegro's EU integration.
Interesting rewards await you if you are savvy enough – gift packages prepared for you by the embassies of the EU member states.
This year, we even went a step further and adapted the game to people with complete or partial visual impairment, who will also be able to have fun and compete for interesting prizes.
The EU Info Centre becomes Europe House
The EU Info Centre has become a European house, a place of gathering, dialogue, creativity and new ideas. After eight years, during which we developed, acquired new roles and great partners, we have modernized and changed our image. The European house, designed by designer Stanislav Nikičević, is located on Argentina Square. It is open to citizens, institutions, media and NGOs, who are involved in EU projects or want to do so. In addition to events and campaigns dedicated to the promotion of European standards, the European House is also at the service of organizing workshops, seminars, exhibitions, lectures, press conferences and other promotional events.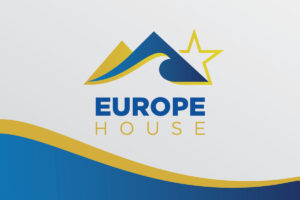 Additional news:
Flower carpet opens in Cetinje to mark Europe Day
Cetinje's main square adorned with 33,500 flowers