Our new campaign "Examples of SHEvalry and SHEroism", which we dedicated to renowned women from Montenegrin and EU history, officially began with a panel discussion at the Ribnica Cultural Centre. The panel was attended by women who continue to smash stereotypes and follow in the footsteps of their ancestors, who achieve their dreams and celebrate femininity, while their heroism goes without saying.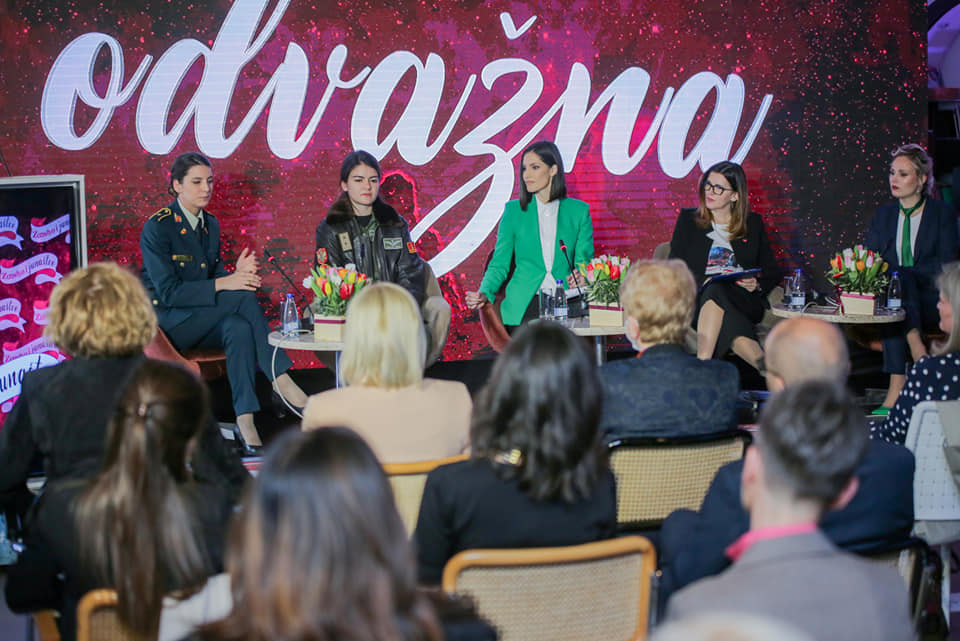 These are the Ambassador of the EU to Montenegro Oana Cristina Popa, the only female pilot in the Army of Montenegro Kristina Bačić, the first Montenegrin ever at the US West Point Military Academy Nevena Nikolić, and the only female competitor in mountain speed races Anđela Knežević. The panel was moderated by journalist Aleksandra Šljivić.
Opening the panel, Ambassador Popa pointed out that the EU campaign in Montenegro paid tribute to heroines who, through their achievements, broke down obstacles and stereotypes and paved the way for generations of women in the fight for gender equality and their rights.
"We want this campaign to inspire Montenegrin girls as well. We want them to get to know women who changed Montenegro, Europe and the world by living ahead of their time and not taking no for an answer. We want young girls to hear this message: be brave, strong and daring and do everything you can to fulfil your dreams" Popa said.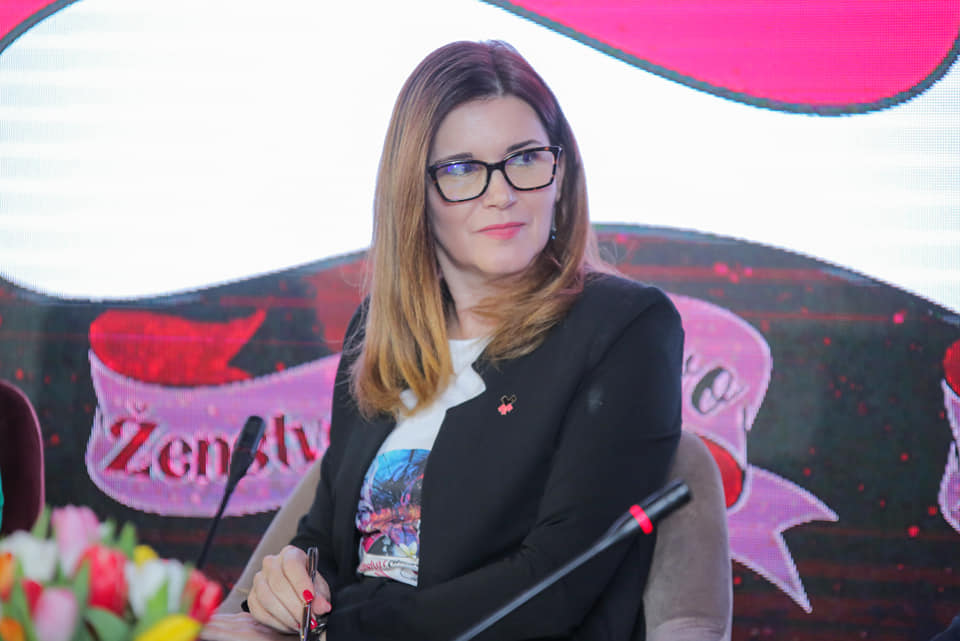 Brave, strong and daring indeed, our three other panellists shared their inspirational stories with us. Kristina Bačić, the only female pilot in the Army of Montenegro, graduated from a five-year military academy in Greece. There, she faced discrimination and prejudice from her male colleagues, having to prove that kitchen is not the only place for a woman. Today, she enjoys full confidence of her team in the Army of Montenegro.
"When I returned to Montenegro, to my surprise, I was greeted by more positive reactions from my colleagues. They are experienced, they have graduated from prestigious academies. Some of them accepted me as a daughter or a sister," she said, telling young girls they should leave a personal mark in whatever they do.
"I am here where I am today, not because I wished or emphasized to be the first female military pilot in Montenegro, but because I wanted to be the best in my job," Kristina said.
Her colleague Nevena Nikolić is the first person, male or female, from Montenegro to enrol and graduate from the US West Point Military Academy. Women make up only 15% of the Montenegrin Army, but that does not demotivate Nevena.
"I am happy that this number increases every year. Time is a masterful solution and it will show once these women emerge in leadership positions, that there is no need for these stereotypes, and that everyone can perform at their positions equally", Nevena explained, adding that the best tool in the fight for equality was perseverance.
"Facing suspicion and prejudice is inevitable, because our society is not yet aware enough when it comes to gender equality, but it is up to us to change that and pave the way for new generations," Nevena said.
Anđela Knežević chose a slightly different path. She loves mountain trails, where she races as the only woman who participates in mountain speed races in Montenegro. She learned to drive when she was only 7.
"Everyone finds something to fall in love with, and now I realize that I am very proud to stand for something like this in our country. You need to have goals, set boundaries and transcend them over time. Because we can do anything we want, the only question is what we want", Anđela said.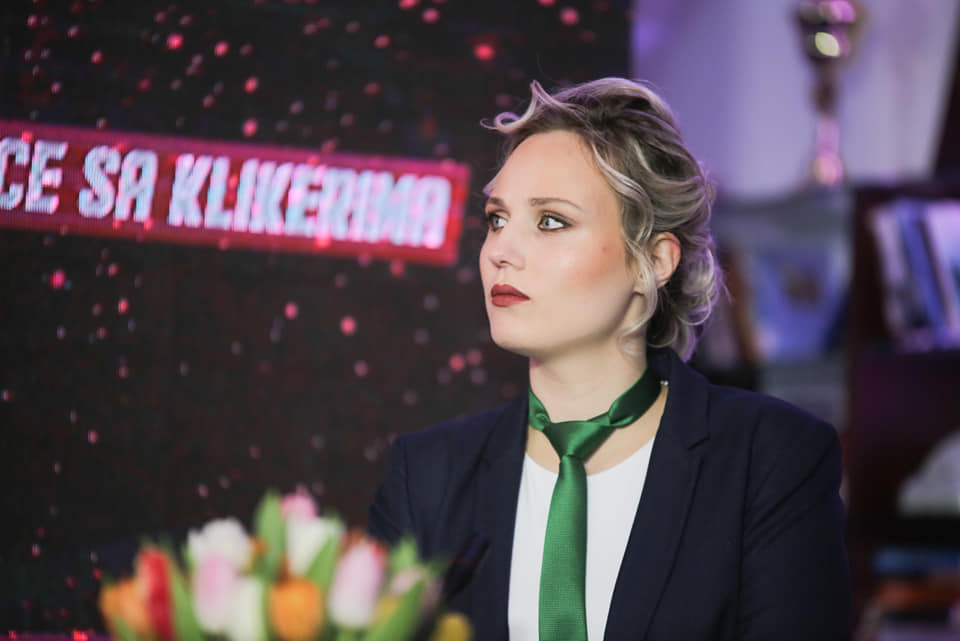 Speaking about her experiences, Ambassador Popa said that diplomacy is one of the areas in which gender stereotypes are much less pronounced today. In Romania, women have taken a big step towards equality in diplomacy "but the work is not done yet".
"Our struggle is not over. The search for equal rights is long and we must fight for it every day", the EU ambassador concluded.
"Live Library" for high school students
After the panel, we organized a "live library" for high school students from Podgorica. Divided into smaller groups, they had the opportunity to talk for about 10 minutes with Ambassador Popa, Kristina, Nevena and Andjela. Our panelists shared their professional experiences and how they feel in professions that are not entirely typical for women. They sent encouraging messages and advice on how to make their dreams come true. The high school students were interested in what prejudices they encountered, how they managed to fight for themselves in a male environment, and what is most important along the way.
Acknowledgement for the women of Ukraine
In her speech, Ambassador Popa paid special tribute to the women of Ukraine, who showed incredible courage in the face of terrible aggression and brutal war.
"Ukrainian women are brave, proud and freedom-loving. The women of Ukraine are not alone. The EU is stepping up its support for Ukraine and the sanctions against Russia, the Russian economy, its financial system, airspace and the aviation industry, the high-tech industry and the media propaganda machinery. We will support the Ukrainian army. Our Member States are receiving Ukrainian refugees with open arms. Together, we provide humanitarian aid to everyone who needs it," Popa said.
The panel was also attended by Chargé d'affaires of the Embassy of Ukraine Natalia Fialka, who said that in today's world women were actively involved in political, economic, social and cultural life, but that current circumstances and many conflicts in the world forced women to take on different roles.
"In Ukraine, over 40% of women were in leading positions at all levels of our country before the war with Russia.
Today we see women who are actively involved in global issues, in digital innovation, climate change, efficient governance," said Fialka, adding that "so far we have had the right to decide in life, society and the affairs of the state. Today, Ukrainian women are bravely playing another role, the role of defending Ukraine from the Russian invasion. Ukrainian women, side by side with the men, are defending our country from the Russian occupiers," Fialka stated.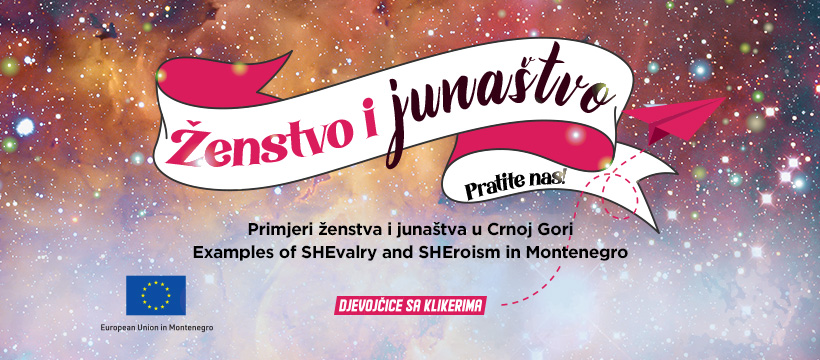 The campaign continues online
In the select group of women from Montenegro and the EU, we find:
Ksenija Petrović-Njegoš – the first woman in the Balkans to drive a car and the first princess to take up photography. She will be remembered for her humanitarian work during the First World War.
Milosava Perunović – a high school student from Nikšić who fought in the First World War under the male name Milosav. As a reward for being a volunteer, Milosava received a large plot of land in Vojvodina. She returned from it to fight, this time under her own name, in World War II.
Ljubica Popović – activist and national heroine of Yugoslavia. Although she died in the prime of her youth, new generations of little heroines are now growing under her name.
Stana Tomašević Arnesen – the first ambassador from Yugoslavia. The Norwegian resistance movement made an anti-fascist leaflet based on one her photos.
Sabiha Gokcen – the first fighter pilot in the world, which is why she was entered in the Guinness Book of Records. Born in Turkey, but of Bijelo Polje origins.
Olgivana Wright – ballerina and composer, granddaughter of Marko Miljanov who wrote the book "Examples of Courage and Heroism". Olgivana is credited with founding the Wright Foundation, and many of the most beautiful works of the greatest US architect of all time.
Marie Curie – the first woman to receive the Nobel Prize; the only woman to win the Nobel Prize twice; the first and only person to win the Nobel Prize in two different scientific fields.
Maria Montessori – Italian doctor and pedagogue, who revolutionized children's education. Her educational methods are still used today in schools around the world.
Sofia Corradi – creator of the Erasmus program, within which over 10 million young people have acquired international education. She is known as the "Erasmus Mom".
Find out more during our online campaign, which will last until the end of March on the EU Info Centre social networks.