As part of the III International EYCA Educo Camp, we're organising a traditional panel discussion titled "International Youth Day – Youth, Can We Hear Each Other?". This discussion will take place during the III International EYCA Educo Camp on Saturday, 12 August, starting at 12:00 PM, in honour of this significant youth-focused date.
Our aim is to emphasise the pivotal role of young people in shaping the future. The discussion will cover youth policy, the position of young individuals in Montenegro and the wider region, current challenges, ongoing programmes, European practices, and recommendations for future steps.
Panel Moderator:
Jelena Kavarić, Project Manager (NGO Centre for Youth Education)
Guests:
Neda Ojdanić, State Secretary (Ministry of Sports and Youth)
Saša Palibrk, Media relations and information officer (Europe House)
Ajla Jadadić, Youth Activist (Youth Services of Montenegro)
Nikitas Papadopoulos (Greece), Youth Activist (EYCA Youth Panel)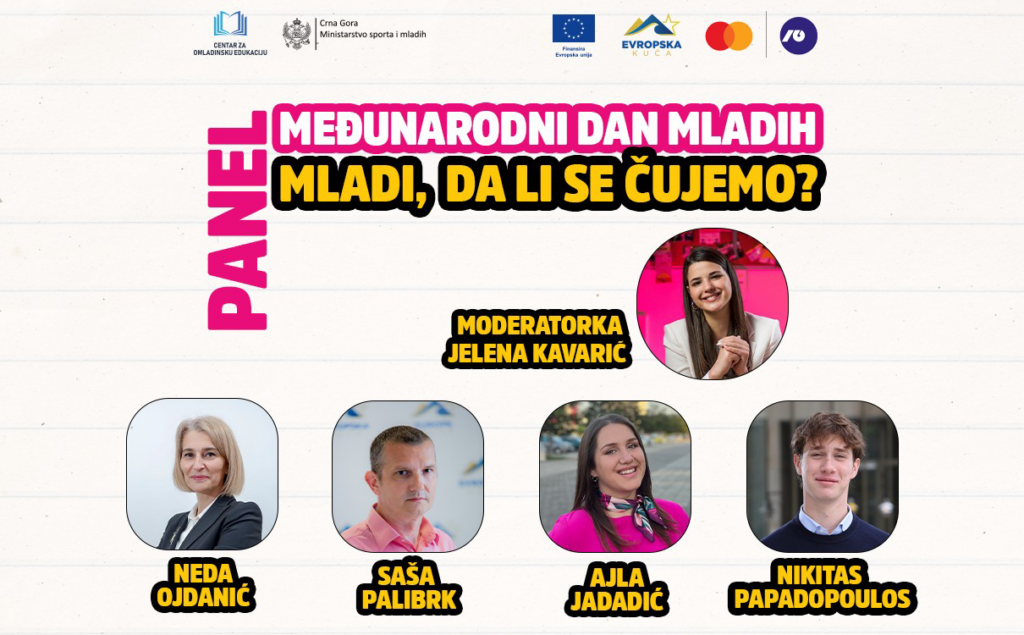 We're confident that participants and guests will engage in a thought-provoking discussion on important youth topics. We extend our gratitude to our panelists for their participation in the discussion and their willingness to spend this day connecting with young people.
The three-day educational seminar, commemorating 12 August as International Youth Day and the European Year of Skills, is organised by the project team of the NGO Centre for Youth Education, with financial support from the Delegation of the European Union to Montenegro, NLB Bank AD Podgorica, and Mastercard.
The European Youth Card (EYCA) is a socially responsible programme that grants young individuals (ages 13-29) access to the world of information, mobility, informal education, networking at national and European levels, and the use of numerous benefits in Montenegro (through partnerships with over 270 companies) and Europe (over 70,000 companies).
The implementation of this project aligns with the goals recognised by the Medium-Term Work Plan of the Government of Montenegro (2022-2024), the Youth Law, the Youth Strategy (2017-2021), and the European Youth Strategy (2019-2027).
The European Youth Card project in Montenegro is carried out by the NGO "Centre for Youth Education" with the support of the Ministry of Sports and Youth. To date, over 45,000 free cards have been distributed in Montenegro.