Montenegro and Albania are countries exposed to a wide range of hazards, including floods. As the level of disaster risk is high in both countries, this project focused on enhancing protection from hazards, primarily from floods, particularly through capacity building, awareness raising activities and cross-border cooperation in disaster risk reduction (DRR). It targeted the area of the Capital City of Podgorica and the municipalities of Bar and Ulcinj in Montenegro and the Shkodër region in Albania.
The project delivered a seminar on best EU practices in flood protection, training courses for representatives of institutions and services in charge of protection, rescue and emergency management, as well as cross-border field demonstrations. Other activities included the procurement of flood response equipment and weather forecast instruments, as well as the updating of databases on floods in the region of Lake Skadar.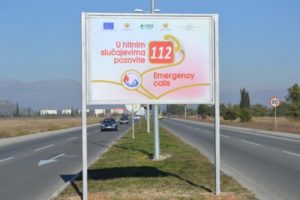 In short, this project resulted in improved technical and human resource capacities of institutions and services in charge of rescue and protection in the targeted area. It also led to improved collaboration between rescue and protection units and institutions from Montenegro and Albania, as well as to increased awareness in both countries about the risk of floods, preventive measures and rescue and protection activities.