Tourism is one of the major economic drivers in both Montenegro and Kosovo*. This project is focused on two mountainous zones in the cross-border area of these economies. Those zones are very attractive, but are barely used for outdoor tourism due to the fact there are no basic services there. To address this gap, this project aims to develop culture and nature-oriented tourism products in the cross-border area by creating two tourism hubs in Andrijevica (Montenegro) and Dečani/Deçan (Kosovo).
As part of this project, an old mountain hut in Montenegro will be refurbished and a new one will be built in Kosovo. They will act as two hubs with their own tourism products and services. Additional products will be developed around these two hubs. The tourism offer will involve households and families from the target area, who will become tourism service providers. Local pastoral settlements, known as katuns, will be also included in the offer.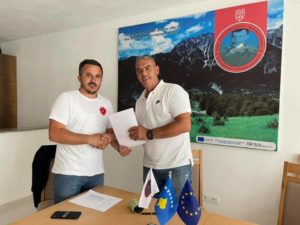 In short, these tourism hubs and additional services will help improve the tourism offer in the cross-border area.
*This designation is without prejudice to positions on status, and is in line with UNSCR 1244/99 and the ICJ Opinion on the Kosovo declaration of independence.