Transhumance is a seasonal movement of farmers and their livestock from one region to another, driven by search for better pastures and leading to the establishment of temporary pastoral settlements called katuns. Usually located at high altitudes, katuns have no infrastructure, but represent places where people live in harmony with nature. This is an ancient tradition in the cross-border area of Kosovo* and Montenegro, practiced widely even today.
However, these katuns offer limited or no services to tourists at all. This project aims to increase their capacities to provide tourism services and products. In other words, its overall objective is to improve the volume, quality and visibility of tourism related to the valorisation of cultural and natural heritage. Its specific objective is to include transhumance in the tourism offers of both Kosovo and Montenegro.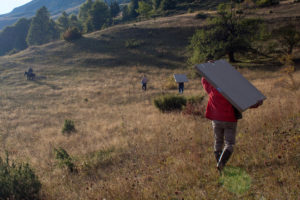 As traditional katuns are something truly authentic and unique to this cross-border area, their presentation as a new tourism product can contribute to the economic development of the area. The project is expected to result in developed thematic katun trails, as well as in camping sites and rest points. Also, 90 families along the trail will benefit from solar systems and increased accommodation capacities for tourism purposes.
*This designation is without prejudice to positions on status, and is in line with UNSCR 1244/99 and the ICJ Opinion on the Kosovo declaration of independence.