Patrimonio estate: A successful IPARD story
"We have 5 wine labels, namely 3 white wines and 2 red wines, including Malvasia, Chardonnay, Sauvignon, Vranac and Cabernet. You can find our wines in about 20 restaurants in Cetinje, Budva, Podgorica and other paces. We are very satisfied, as we were dedicated and invested lots of passion, effort and knowledge," he explains. The expansion of production was made possible thanks to the support of the state and the European Union through the IPARD programme, which provides pre-accession financial assistance for rural development. After their successful application for IPARD funding, the Patrimonio estate built a new facility that houses the winery. Making use of measures 1 and 3 of the IPARD programme, they planted a new vineyard and acquired modern equipment for wine production and storage. "Through these measures, we have received a total of €270,000 in grants. When you receive funding to start your business and you don't have to pay back half of it – that's a fantastic thing and an additional motivation for a person to embark on such an investment," says Radosav.
Additional 63 million euros for Montenegrin farmers The Patrimonio winery hosted the presentation of the IPARD III programme, which was recently adopted for Montenegro by the European Commission. The €63 million worth programme was presented by Vladimir Joković, Deputy Prime Minister for the Economic System and Minister of Agriculture, Forestry and Water Management, and Oana Cristina Popa, Ambassador of the European Union to Montenegro. Minister Joković explained that the IPARD III programme consists of eight support measures, four of which are new. These four new measures include agroecological and organic production, implementation of local development strategies, investment in public rural infrastructure and the establishment and protection of forests.
"I learned to prune grapevines before I could read"
"With the IPARD III programme we tried to remove and overcome all barriers that we had detected during the implementation of the IPARD II programme. Potential beneficiaries are no longer limited to the number of projects in this programming period, so there are now more opportunities and types of support. Opportunities are also given to beginners in agriculture who intend to invest in the meat production sector, planting perennial crops or building greenhouses. In addition, the maximum values of total acceptable investment have been increased compared to the previous programming period," said the minister at the press conference. Ambassador Popa emphasised that the budget for the new programme is 60% bigger than that of the previous IPARD II programme.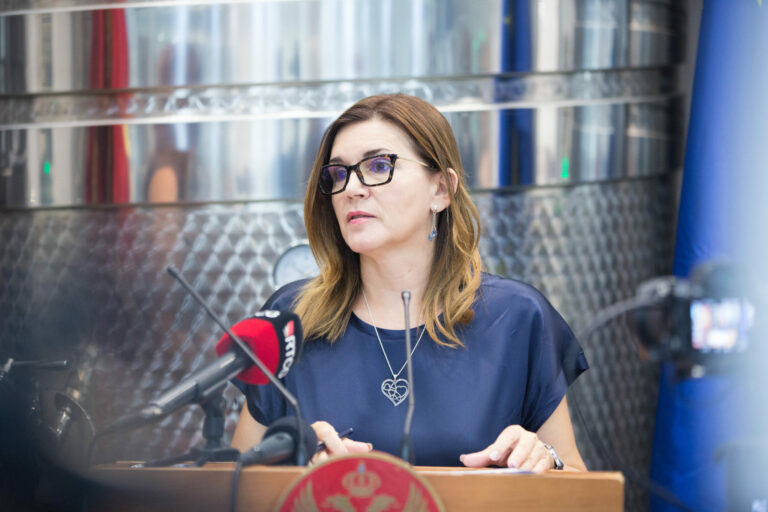 "I encourage Montenegrin farmers and agro-processors to take full advantage of IPARD II and the upcoming IPARD III. Dear Minister, a unique opportunity now lies with you. You can make great progress in the accession process by showing that you can manage EU funds and requirements in a good way."
The IPARD III programme will begin to be implemented after the IPARD II funds have been used by the end of 2023. The Patrimonio winery is already planning to apply. "The plan is to expand our capacities through the IPARD III programme. Through Measure 1 we will expand the vineyard by 4 hectares, while we are planning to buy new equipment through Measure 3. And what is most important to us and for which we are very happy, we are planning to make use of Measure 7 to build accommodation facilities by 2024," says the owner of the winery.