Super Stella, Animations, and Music without Electricity at the Ceremony
Europe House celebrated its first birthday in the most beautiful company – with children. We dedicated this day to our dearest guests, the future residents of the European Union, for whom Europe House prepared a special surprise.
The comic book ʺSuper Stellaʺ saw the light of day. The comic book was illustrated by Luka Cakić. ʺSuper Stellaʺ follows adventures of a heroine with a blue cloak through the depths of space, where new discoveries await, as well as some interesting characters and lots of new friends.
Her superpowers symbolise the core values of the EU, such as solidarity, unity, friendship, guardianship – which were the topics of conversation between EU Ambassador Oana Cristina Popa and the pupils from the elementary school ʺOktoihʺ and TV show ʺ Zvjezdice.ʺ Along with the EU ambassador and illustrator Luka Cakić, the youngest panelists that Europe House had the honour to host spoke about each of the EU's superpowers. The young panelists were: Iva Šoć, Vuk Jovović, Irina Vlaović and Vuk Matanović.
Ambassador Popa spoke about her homeland, Romania, and the positive changes that the membership in the European Union brought to it. Ambassador Popa also explained how the EU protects bees, flowers, rivers, and helps its members to fight wildfires and floods. Answering the children's questions, Ambassador Popa underlined that it is the unity of the members united in diversity creates the superpowers of the European Union.
After the discussion with Ambassador Popa, the pupils had the opportunity to socialise with the animators. They brought to life some of the scenes from the comic book. The youngest ones answered ʺSuper Stella'sʺ questions and promised to fight for a healthier and cleaner environment.
Throughout the whole day, guests of Europe House had the opportunity to enjoy the art exhibition ʺMoj Imagi EkoTisak.ʺ The exhibition was officially open at 19h and is the result of cooperation between Europe House and the art school ʺMoj Imaginarium.ʺ . By leaving their mark, over 50 children made a promise to treat nature with care. The children's artworks were copied, and then a special tent was set up, which now adorns the courtyard of Europe House.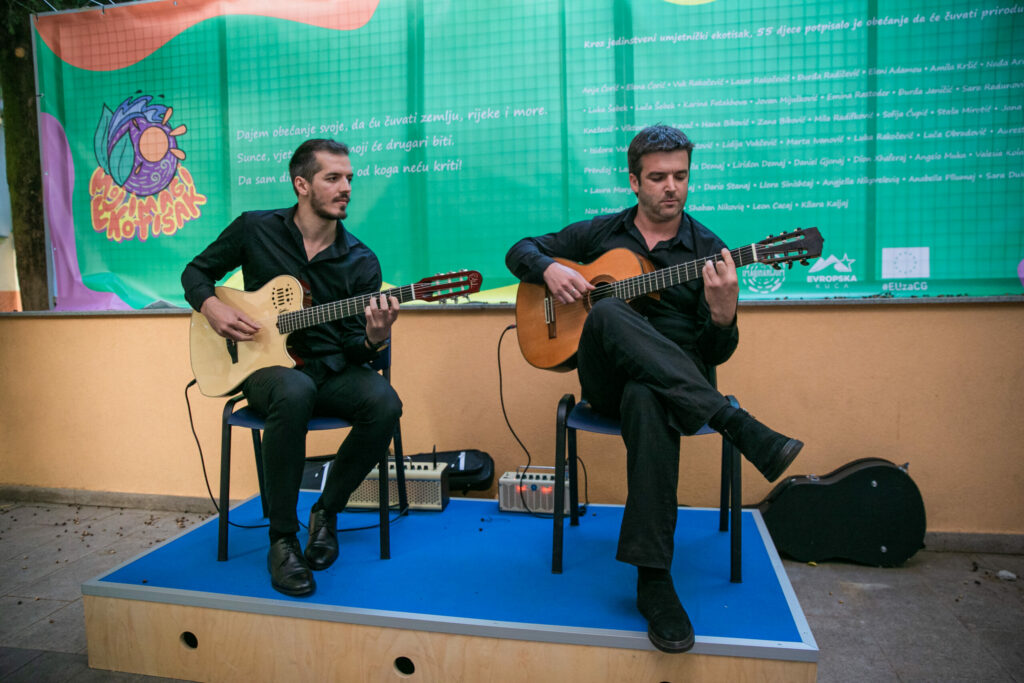 As part of the birthday celebration, Europe House organised the first in a series of planned concerts without electricity. The first one was reserved for the guitar duo Marko Prentić and Dražen Joković, who played classical and film music, mixed with pop, ethno, and jazz genres for the guests of the birthday party. The event was attended by the young artists whose took part in the art exhibition , along with their parents, friends, partners of Europe House, and its indispensable neighborhood.
Through the celebration of its first birthday, Europe House (former EU Info Centre) aimed to showcase that it is a gathering place for dialogue, new ideas, and creativity, where anyone interested can learn about the European Union in Montenegro, its initiatives, policies, and projects.