Veselko Grubišić, a chemical engineer serving in the Croatian diplomatic service, is the resident Ambassador of Croatia in Montenegro. The analytical approach brought by experimental science has greatly contributed to "mastering" the secrets of diplomacy, he told the audience during the "Coffee with Ambassadors" event at Europe House.
He has also served his country in Canada, from where he carries a lot of emotions, memories, and knowledge that he later used as inspiration to "transform a society that would bring out the best in everyone." He believes that there is no better place to live than in the Balkans, but it longs for a sense of order in which one can thrive.
Grubišić was actively involved in promoting the independence of Croatia as a scientist in Australia, and later worked on Croatia's path towards the NATO and EU membership as a diplomat in Brussels. He says that one must be ambitious to achieve something. Excessive ambition can lead to great disappointment, but one must be prepared for it in order to reach a goal, he emphasises.
Croats saw the membership of their country in the European Union as the ultimate goal, and during the period that followed Croatia's accession to the EU, there were more sceptics about the enlargement than there are today, the Ambassador explains. Croatia, according to Grubišić, did not give up on its ultimate goal and is now celebrating the tenth anniversary of its membership. The response to scepticism is to "play for, not against" and to complete the assigned homework. When everything that needs to be done is accomplished, sceptics lose the power of their voice.
Grubišić considers his profession endlessly interesting and highly demanding. Diplomacy requires the sacrifice of the diplomat, and even more so of one's family. It offers them the opportunity to travel the world, but often, in that "journey," they can also lose their roots or the solid ground beneath their feet, he explains.
Speaking about the relations between Montenegro and Croatia, not only in modern times but also in past centuries, Grubišić also mentioned "The Death of Smail-aga Čengić" by Ivan Mažuranić and Ivan Meštrović's mausoleum of Njegoš on Lovćen. The result of these connections, he says, is a strong Montenegrin community in Croatia that can boast exceptional education.
The connection between Montenegro and Croatia is perhaps best exemplified by the Boka Navy, an intangible cultural heritage that both Montenegrins and Croats can equally be proud of.
The gathering continued with performances by two klapa groups. Camerton and Lanterna embellished the event with their voices while presenting Croatia's intangible cultural heritage, which we all love and embrace.
Klapa singing is traditional Croatian vocal music originating in the southern part of Croatia (Dalmatia). Such singing is most prevalent in coastal and island regions. In December 2012, UNESCO included klapa multipart singing in the Representative List of the Intangible Cultural Heritage of Humanity.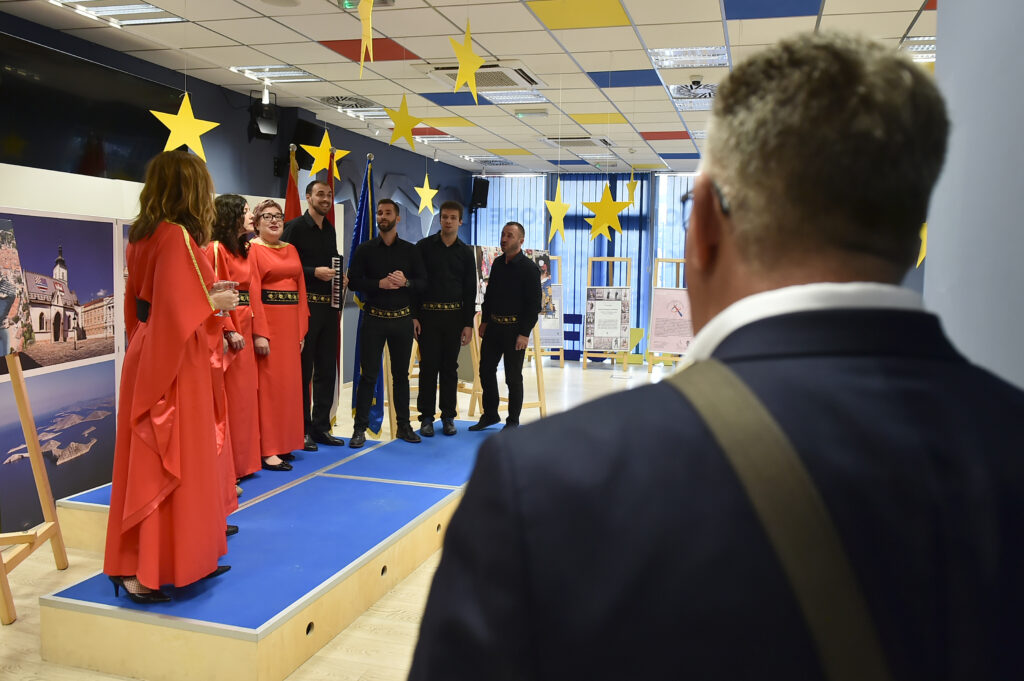 Through the activity "Coffee with Ambassadors," Europe House opens its doors to citizens to meet with representatives of EU countries in Montenegro and learn about anything that may interest them through open dialogue.