"Coffee with Ambassadors" is the name of our new activity, through which Europe House opens its doors for citizens to have the opportunity to meet with representatives of EU member states in Montenegro and learn more about their countries through an open dialogue.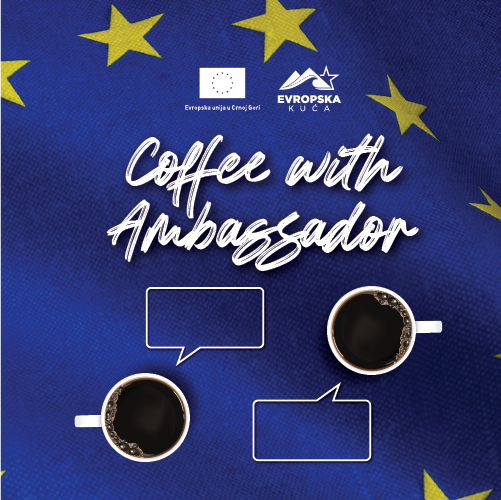 This activity was organised for the first time in honour of Europe Day with the Ambassador of Sweden, who is currently presiding over the Council of the EU.
"This is a great way for young and future leaders to learn about EU member states and the roles they play. I believe that the best way is to have an open dialogue so that young people can ask all the questions they need answers to," said the Ambassador of the EU to Montenegro, Oana Cristina Popa.
"Coffee with the Ambassador of Sweden" was followed by meetings with the Ambassadors of Croatia and Austria. They shared many of their experiences with us, including their countries' experiences in the EU accession process.
While enjoying "Coffee with Ambassadors," visitors had the opportunity to familiarise themselves with not only the culinary but also the musical peculiarities of the esteemed ambassadors' countries. During   the concerts without electricity, we enjoyed the voices of Croatian klapas Camerton and Lanterna. A portion of the cultural wealth from the country beneath the Alps, Austria, was showcased by the musical virtuoso Jakob Steinkelner through the sounds of the Styrian harmonica and accordion.
In the upcoming period, Europe House plans to host the ambassadors of all EU member states that have diplomatic missions in Montenegro. These gatherings will help us recognise similarities and embrace differences that unite us under the shared sky of Europe.
Related articles:
Coffee with the Ambassador of Austria and the Sounds of the Styrian Harmonica at Europe House
"Coffee with Ambassadors" marks the beginning of Europe Day celebration
The discussion with the Ambassador of Croatia and Klapa Melodies filled the atmosphere at Europe House